ShockWatch Quality Labels Impact Indicators
Deter mishandling and reduce damage related costs to your products. Indicate when the packaging has been exposed to a potentially damaging impact during transit or in storage.
ShockWatch impact labels are tamperproof, mechanically activated devices. They turn bright red when an impact occurs over the g force threshold of the ShockWatch label. Shockwatch Impact Labels have an omni directional impact response.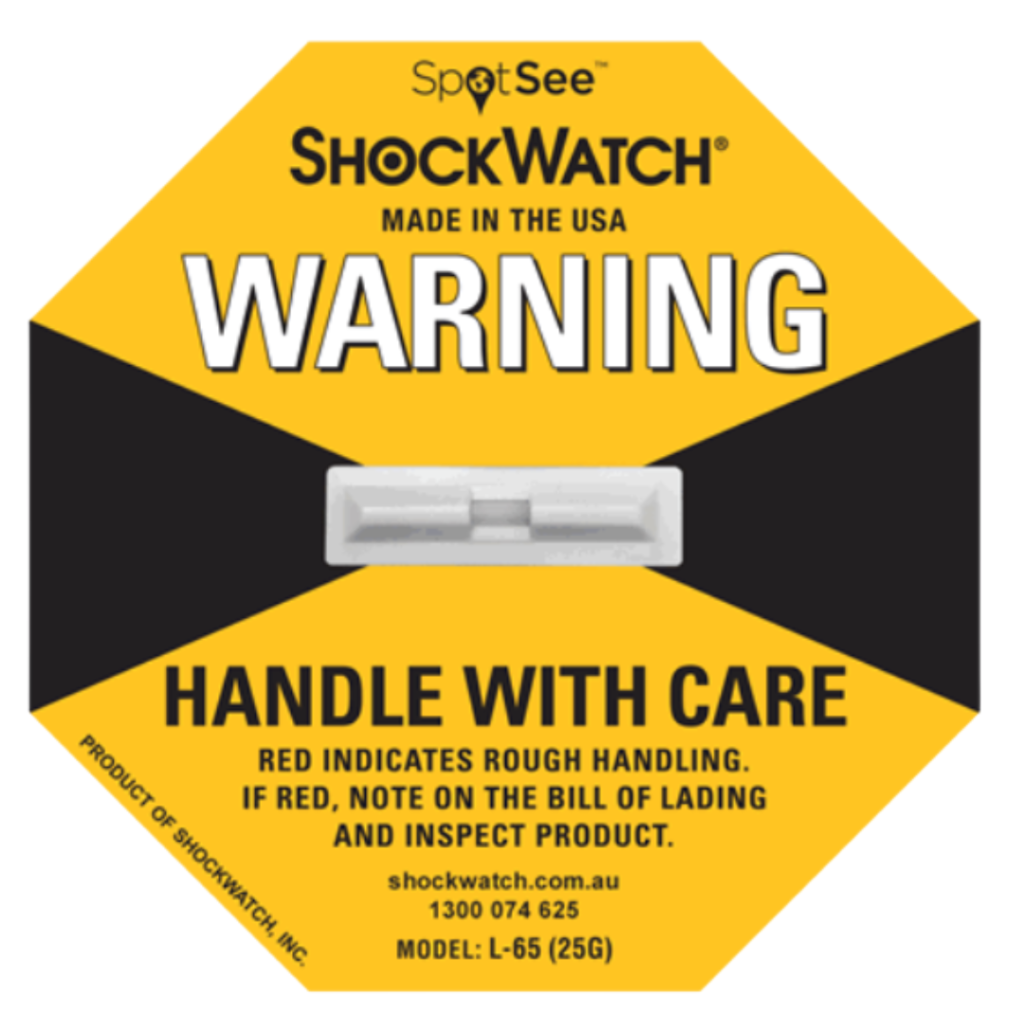 Selecting the most suitable ShockWatch Impact Label indicators
Available in five sensitivities (g forces), as indicated by the five different colours. Simply match the sensitivity of the ShockWatch Label to the level of impact the product and packaging can withstand. This should be done according to any non operating shock specifications that the product may have. Or, select a ShockWatch Label based on the mass and size of your shipment from our ShockWatch Label Selection Guide below.
ShockWatch Impact Labels visually deter and detect mishandling
If a package has not been mishandled, the circular indicator in the centre of the ShockWatch Label will remain white. If the package has been dropped, the indicator will show full or partial red colouration. Any red in the ShockWatch Label impact indicators window alerts receivers to inspect the package for any potential damage.
Economical solution to reduce your damage related costs
ShockWatch Labels impact indicators offer an economical solution to prevent damage during product transit.
Read: Shockwatch and Tiltwatch Indicators
Indicate when mishandling has occurred with ShockWatch Impact Labels
The wide range of ShockWatch Impact Labels impact indicators are not indicators of damage, they are an indicator of mishandling. If a shipment arrives at a destination with an activated ShockWatch Label, the receiver should immediately note any visible damage to the shipment. Open the package and inspect for any damage to the goods.
Read: Why Use Wooden Crate Box?
Applications
Energy and Utilities
Packaging/Crating
Telecommunications Equipment
Furniture and Fixtures
High Tech Equipment
Scientific Instruments
Medical Devices
Auto and Truck Parts
Industrial Equipment
Art
Glass
Consumer Electronics
Aerospace Components
Defense Components
Small Distribution Transformers
Musical Instruments/Equipment
Construction Fixtures
Appliances
ShockWatch Impact Label Selection Guide
There are two things you need to know to begin selecting a ShockWatch Label impact indicator sensitivity. The information you need to know is shipment size (m³) and weight (kgs).
The selection guide should always be used as a starting point only. The label that will be best suited to your application will also take into account product fragility and packaging.

Benefits
Acts as a visual deterrent to improper handling
Reduces mishandling through awareness
Provides indisputable evidence of mishandling
Alerts recipient to inspect contents before acceptance
Promotes chain of accountability for all product handling
Confirms effectiveness of packaging
Helps identify trouble spots in the supply chain from production to transportation and storage
Helps increase quality of product from dock to dock for the long run
JSX Lab No. 1 ShockWatch Impact Indicators Supplier in Johor & Singapore.
JSX Lab have the cheapest shockwatch, tiltwatch and spotsee in Malaysia and Singapore with fast shipping. Shipping Indicators are a great way to ensure that your packages arrive in the best condition possible. They are especially useful if you are shipping items that need to be in pristine condition when they reach their destination. The different types of shipping indicators available make it easy for anyone to get started using them today!
whatsapp